Fishman® Corporation Case Studies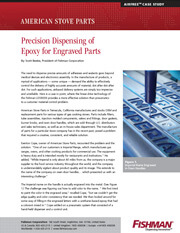 The need to dispense precise amounts of adhesives and sealants goes beyond medical devices and electronics assembly. In the manufacture of products, a myriad of applications — some unique — demand the ability to effectively control the delivery of highly accurate amounts of material, dot after dot after dot. For such applications, airbased delivery systems are simply too imprecise and unreliable.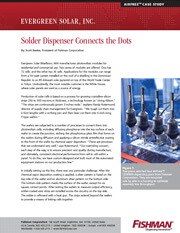 Evergreen Solar (Marlboro, MA) manufactures photovoltaic modules for residential and commercial use. Two series of modules are offered. One has 72 cells, and the other has 36 cells. Applications for the modules can range from a 50-watt system installed on the roof of a dwelling in the Dominican Republic to an 85-kilowatt solar pyramid on top of the World Trade Center in Tokyo. Undoubtedly, the most notable customer is the White House, where solar panels are used as a source of energy.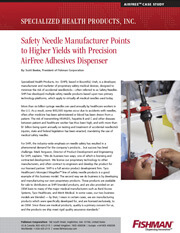 Specialized Health Products, Inc. (SHPI), based in Bountiful, Utah, is a developer, manufacturer and marketer of proprietary safety medical devices, designed to minimize the risk of accidental needlesticks – often referred to as Safety Needles. SHPI has developed multiple safety needle products based upon two primary technology platforms, which apply to virtually all medical needles used today.