Fishman Corporation Releases New Pencil Gun for Use with the SmartDispenser
®

Benchtop System for Fluid Dispensing

The Fishman Corporation SmartDispenser® Benchtop System for fluid dispensing utilizes AirFree® technology to provide unparalleled performance, the lowest deployment cost, and the lowest total cost of ownership when compared to other fluid dispensing systems. Components are designed specifically for industrial use, achieving optimized performance. The SmartDispenser® Benchtop System now features a new Pencil Gun to be used with industrial grade Genius® reservoirs. It comes with 3 and 5 cc retaining rings and has a dispense volume as low as .00006 cc.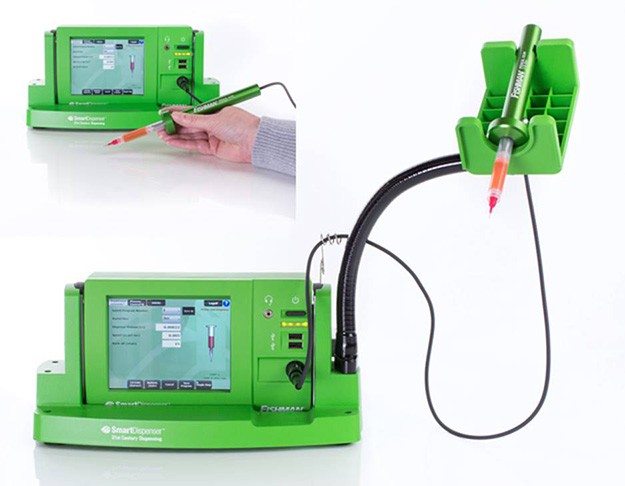 At 5.2 oz. (148 g), the Pencil Gun is lightweight, easy to hold, and ergonomically correct to ensure operator comfort. It is designed for micro dots and beads of any fluid viscosity. The Pencil Gun is ideal for fiber optic connector assembly and under microscope assembly. Other recommended SmartDispenser® Pencil Gun applications include thick pastes, thin watery fluids, solder paste, pre-mixed and frozen applications, bonding and gluing, and beading and striping.
The Pencil Gun has been expertly designed with functionality in mind. The motor and lead screw are completely encapsulated. A Teflon seal wipes the drive tube clean as it retracts. Because the Teflon seal is cyanoacrylate resistant, it is great for CA applications. The linear motion of the Linear Drive System ensures that the drive tube doesn't turn and the piston doesn't rotate in the syringe barrel. The lead screw is covered by a drive tube which prevents fluid from getting on the screw. An internal home switch resets the software when it is fully retracted.
The Pencil Gun is extremely strong and durable. It features a high torque motor and gear head assembly combined with a thrust coupling that protects the motor bearings from axial load.
Each SmartDispenser® Benchtop System featuring the pencil gun can be customized using SmartApps™. For example, timer apps automatically stop an operator's production with a pre-set time. Bar code scanner apps eliminate human error during manufacturing. New SmartApps™ are developed daily per customers' requests.
Every SmartDispenser® Benchtop system comes with a lifetime subscription of LogMeIn, allowing remote programing and data transfer from any laptop, tablet, or smartphone. Skype is also available, allowing real time video feed or communication via blue-tooth headsets.
The SmartDispenser® Pencil Gun 3 & 5cc dispense starter kit includes a foot pedal, keyboard, mouse, earphone, webcam, Wi-Fi USB device, needle kit, manuals, power supply connection, and universal power supply.
To learn more about Fishman Corporation fluid dispensing products visit http://www.fishmancorp.com.