How the SmartDispenser® is Environmentally Friendly
Fishman® Corporation has revolutionized fluid dispensing with the SmartDispenser®, an AirFree® fluid dispensing system. It provides control and monitoring of a consistent repeatable assembly fluid deposit worldwide resulting in increased bottom line profits through higher productivity, fewer rejects, less fluid waste and lower production costs. Not only is the color of the SmartDispenser® green, but it is also an environmentally friendly fluid dispensing alternative to expensive compressed air.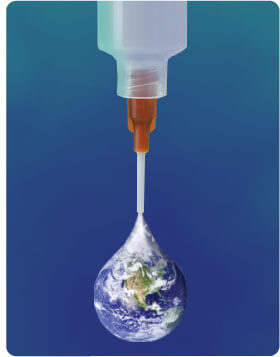 According to the University of MN:
"Approximately 70% of all manufacturers have a compressed air system. These systems power a variety of equipment, including machine tools, material handling and separation equipment, and spray-painting equipment. Compressed air is one of the most expensive uses of energy in a manufacturing plant. About 8hp of electricity is used to generate 1hp of compressed air."
Fishman® Corporation does its part to reduce electricity usage at major manufacturers worldwide joining the drive to reduce greenhouse gasses. While replacing one air dispenser with an AirFree® SmartDispenser® may not make much of a difference, most manufacturers have hundreds of air dispensers in their facilities. Hundreds of AirFree® SmartDispenser®s replacing hundreds of air dispensers makes a big difference.
The SmartDispenser® provides WEEE (Waste Electrical and Electronic Equipment) fluid dispensing solutions. Waste Electrical and Electronic Equipment (WEEE) is a directive from the European Parliament and of the Council of the European Union on restriction of the use of certain hazardous substances in electrical and electronic equipment. The intention of the directive is to reduce electrical and electronic equipment waste, increase recovery by recycling, and improve the environmental process of manufacturers. The directive concentrates specifically toward equipment dependent upon electrical currents or electromagnetic fields in order to work properly and designed for use with a voltage rating not exceeding 1000 volts AC and 1500 volts DC.