Genius
®

CA
FreeFlow

™

Tips
and Teflon Tips

Genius® FreeFlow CA Tips and Teflon®* Tips both prevent CA from clogging the tip during the fluid dispensing process.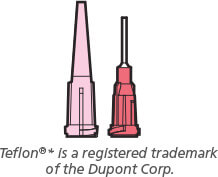 Genius
®


Cyanoacrylate
Dispensing
Components

Genius® CA dispensing components are designed from a proprietary plastic that prevents the CA from bonding the syringe piston to the syringe barrel and the syringe tip cap to the syringe luer.
Software Imaging
The SmartDispenser® can come pre-programmed from the factory, so the systems are ready to go right out of the box, providing the lowest deployment cost of any fluid dispensing system. Simply plug the system in, attach a syringe and start manufacturing.