Standardized Operator Training and Adaptability with the SmartDispenser®
The SmartDispenser® fluid dispensing system is easy to use and operator friendly. It can display program specifications and work instructions on screen for instant operator training. It displays a part assembly drawing allowing the operator to inspect it at the work station. The SmartDispenser® plays videos, comes with a headset and will synch with any blue tooth headset. To bolster training, the SmartDispenser® allows you to add an audio track. You can also add a training video to multiple SmartDispenser®s and the SmartDispenser® will train for you. Add an icon on the SmartDispenser® home screen and with one finger touch the operator has the training document on demand.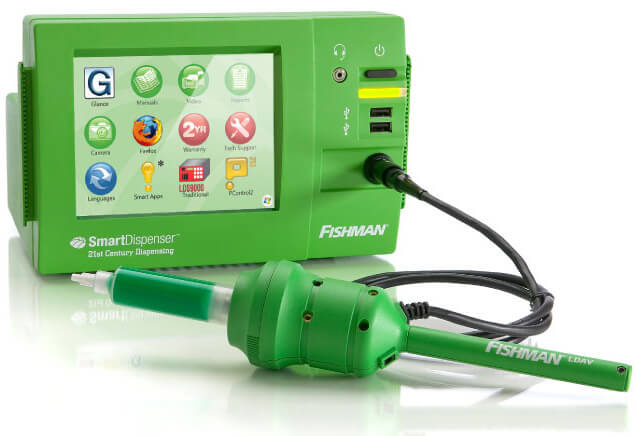 The SmartDispenser® features a large, easy to read four color touchscreen. Smartphone like menu systems simulate the iPhone and Android phone menu systems in touch, feel, and function. This design assures operators will be comfortable and know how to navigate the SmartDispenser® because it functions just like their favorite smartphone.
Should you choose to use any of the SmartDispenser® reports as part of a medical device validation program with the FDA, the SmartDispenser®'s flexible design allows it to work with the FDA's part 11 compliance program regardless of your methodology. Part 11 compliance software can be loaded onto the SmartDispenser®. If documents are signed and stored on the local server or via Microsoft SharePoint, the SmartDispenser® can network to the local server for digital signing and electronic filing.
Documents can be printed directly from the SmartDispenser® to any windows approved printer for manual Part 11 compliance and filing. All you need to do is connect the printer and you're ready to go. The SmartDispenser® runs a full version of Windows 7 Ultimate with 64 gigabyte hard drive.
The SmartDispenser® design is flexible. As technology changes the SmartDispenser® adapts. Tasks like adding an RFID or bar code scanners are made simple with the SmartDispenser®. SmartApps™ are available to add any windows compatible device needed to improve your liquid dispensing process.
The SmartDispenser® provides the supporting infrastructure manufacturing facilities needed for 21st century technology advancements. Communicating between other manufacturing systems, MES systems, and providing real time production data over the cloud, SmartDispenser® products allow remote access and remote programming, standardizing worldwide manufacturing. The SmartDispenser® fluid dispensing system combines Fishman's patented linear drive technology, Windows 7 operating system, and smartphone like apps designed for manufacturing.