Fluid Dispensing for Manufacturing; Rosie the Riveter and Ben Franklin the Apprentice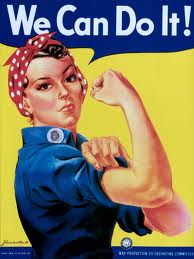 We manufacture fluid dispensing equipment to  manufacturers. What does US manufacturing really need to do to regain its' prominence as the world's greatest builder of products? Many believe that a big part of the solution lies our ability to increasingly attract trained, skilled, hard working employees like Rosie and Ben….. younger and older versions.
As this short video on the  21st Century Manufacturing  and fluid dispensing equipment points out, manufacturing sure has changed over the years. However, the need for trained, skilled, hard working employees has not.
Many educators, parents, the US government and US  manufacturers are addressing this with students.  For example, the State of Washington's website directly appeals to high school students and teachers regarding the opportunities at manufacturing giant Boeing;  (a fluid dispensing user of Fishman®'s fluid dispensing equipment)
Did you know that manufacturing has gone high tech? Manufacturing apprenticeships give you the chance to work with cutting edge technologies and tools. Advanced manufacturing techniques are the wave of the future – and there are lots of opportunities  The Boeing Company offers apprenticeships for machinists and aircraft workers. Interested in learning to build an airplane? Boeing apprentices do that…….
 And it is a hot discussion  today amongst the Global Community for Manufacturing Leadership 'Attacking the Manufacturing Workforce Issue' 
Recently,  Fishman® has been working on a variety of fluid dispensing applications for fiber optic connector assembly. Some of these assemblies are used in mission critical aircraft. They have to be perfect, there is no room for error.  Too little or too much epoxy used in the fluid dispensing assembly process can result in a bad part.  The use of our SmartDispenser provides the repeatability of fluid dispensing process. The unit's  closed loop process control allows those cable assemblers trained in quality control to adhere to the tight guidelines and specifications required for fluid dispensing.
As you know, Rosie was the name given to categorize  the American women who worked long and hard in US factories during World War II while so many of our men were fighting overseas.  Back in the colonial days of the US, one of our Founding Fathers, Benjamin Franklin, got his start as an apprentice to his brother James, a printer, who taught Ben the printing trade.  Today's manufacturers still need "riveters" (although using today's advanced adhesives is a much better assembly method!) and manufacturers such as Boeing want to hire working apprentices.  Then of course we have Donald Trump and his apprentices….totally different.
When I was asked a number of years ago to write this article about attracting more woman into careers in industry, I remember thinking that it really was not just about enticing young women to pursue industrial jobs but about engaging a whole US youngergeneration to look at manufacturing as a career.
Fishman® Corporation   is a thriving,  mostly family owned  small business  now  poised for great growth with their new fluid dispensing equipment.  Fishman® has recently added a number of skilled men and woman to our team. This includes my favorite guy, an artist by heart, Grigor Kotnani.  Born in Albania, Grigor immigrated to the US with his family when he was 11 years old. In Albania, his family owned an auto parts store. Once they relocated to the States, his family bought a dry cleaning business. In both these businesses, Grigor helped out when he could and got his first experiences in business and customer service. I wonder if his parents paid him the way my father paid my 5 brothers for working all day at his tire store….with lunch. My grandparents all arrived here from Ireland when the were about 18 years old. Each loved this country and saw it as the land of opportunity. All worked in factories at some point and were proud to say so.  They felt they were contributing to a greater America for their children and grandchildren. Myself and my 9 siblings have all benefited from their hard work and their unwavering dedication to building this country; piece by piece, part by part, …