The Fourth Industrial Revolution: Are We There Yet?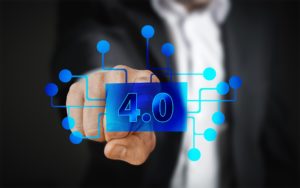 A few years ago we published a blog post titled "The Fourth Industrial Revolution is Coming" in which we outlined four of the biggest factors contributing to the then-forthcoming fourth industrial revolution: big data and access to information, the connected factory and smart devices, advanced technology and automation, and reshoring. Recently, The Washington Post published an article titled "The fourth industrial revolution is upon us" which paints a picture of driverless cars ruling the road, robots manning the factories, and super-smartphones hailing Uber helicopters and planes – in the next five to 10 years.
While there hasn't been an official declaration that the fourth industrial revolution has arrived, if it hasn't, it's just around the corner. Here are a few noteworthy points on the topic:
This industrial revolution is unlike the others
In his book, The Fourth Industrial Revolution, topic expert Professor Klaus Schwab, Founder and Executive Chairman of the World Economic Forum, explains:
Previous industrial revolutions liberated humankind from animal power, made mass production possible and brought digital capabilities to billions of people. This Fourth Industrial Revolution is, however, fundamentally different. It is characterized by a range of new technologies that are fusing the physical, digital and biological worlds, impacting all disciplines, economies and industries, and even challenging ideas about what it means to be human.
He goes on to say that it's a "time of great promise and great peril" since the technology connects billions of people and can dramatically improve efficiency, but only if organizations adapt.
Educational institutions must alter course
It is estimated that 7.1 million jobs will be lost as a direct result of fourth industrial revolution (4IR) technologies, primarily concentrated in the Office and Administrative job family. (Source) Higher education institutions need to be ready for this shift and alter course since they are still adopting outdated methods of learning and the curriculum can barely catch up with the needs of industry. (Source)
Ongoing education and training is essential
It isn't only the younger workforce, but the entire workforce that must invest time and resources in ongoing learning opportunities in order to succeed as the fourth industrial revolution continues to roll out. Business leaders need to be open to expanding their thinking and skill sets because those that don't will fall behind and won't ever be able to catch up, given the quick rate of technological change that defines this new era.
In the manufacturing sector, robotic automation is nothing new, but there will be even greater implementation in the years to come. Manufacturers must be open to adopting these technologies while refocusing human labor into other, more skillful roles.