Genius
®

CA
FreeFlow

™

Tips
and Teflon Tips

Genius® FreeFlow CA Tips and Teflon®* Tips both prevent CA from clogging the tip during the fluid dispensing process.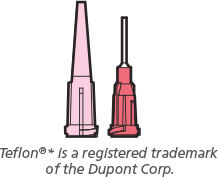 Genius
®


Cyanoacrylate
Dispensing
Components

Genius® CA dispensing components are designed from a proprietary plastic that prevents the CA from bonding the syringe piston to the syringe barrel
and the syringe tip cap to the syringe luer.
SmartDispenser
®

Is Camstar Ready

Eliminate human error by integrating Camstar MES Apps*. Allows MES to command and control the SmartDispenser®. Real time product data - device history. - Click Here
*Changes must be made to MES by IT before Apps can function.